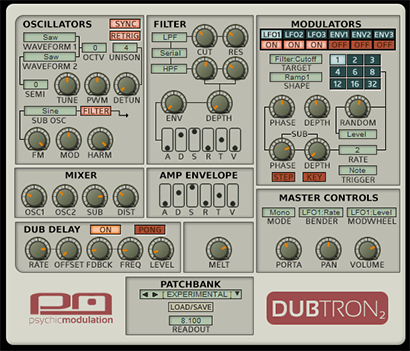 DUBtron2
Dub Synthesizer
Dubtron2 is the successor to the original Dubtron bass synth, taking it's modulation-based concept into new territory, exploring quirky analogue basses, modern rhythmic soundscapes, chilly dub techno and experimental ambient textures. Dubtron2 uses beat-driven modulation and sub-rhythms along with randomization to bring about interesting rhythmic sounds and atmospheres. This along with it's serial filter system, a feedback-looping dub delay and a "Phonec-style" Melt feature makes Dubtron2 a extremely versatile instrument with a unique approach to sonic exploration.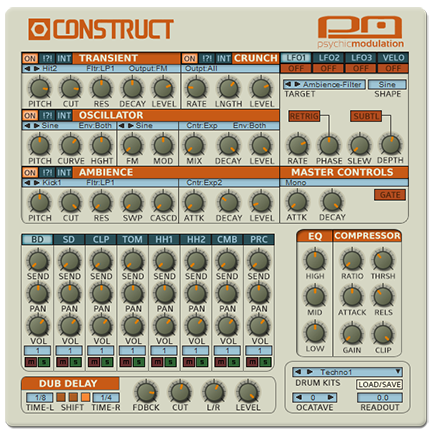 CONSTRUCT
DRUM MACHINE
con-struct n : Something formed or constructed from parts.
Construct is a drum machine with a sound design workflow based on layering, using both drum synthesis as well as sampled sounds to create the various elements that build a drum. Featuring dynamic effects, dub delay, multiple lfos and velocity options, Construct is a compact drum machine that offers a wide range of possibilities.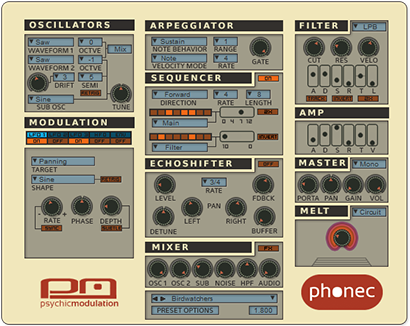 PHONEC
ANALOG FLUX SYNTHESIZER
Featuring drifting oscillators, VHS Melt, Arpeggiator/Sequencer combo, unusual LFO & HFO functions, Echoshifter Delay, and lots of character!