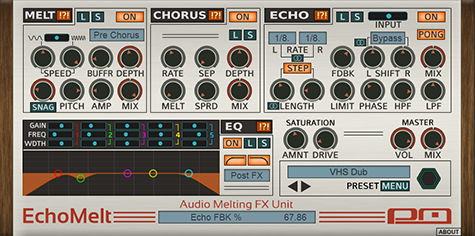 EchoMelt is an Audio Melting Multi-FX unit designed for adding character, texture and warmth to your sounds. EchoMelt can create warbling "VHS" effects, swirling choruses, dubbed-out space delays, lo-fi saturated distortion and everything in-between. More than just a "lo-fi" effect, EchoMelt can be used in a variety of situations, equipt with a very useful 5-band fully parametric EQ that can be routed before or after all other effects, or even used on it's own. In fact, each effect section can be used independantly, and each section has it's own dry/wet mix in addition to the main Master Mix. Each section can even save it's own presets for quickly loading up specific settings at any time.
EchoMelt is based on the onboard effects of the Phonec Synthesizer, but with big improvements and several new features that make EchoMelt an excellent multi-effect plugin to add to your arsenal.
---
Features include
Melt: Analog-style drifting, instability and random fluctuations
Snag: Sporadic pitch jumps and dropouts
2-Voice Chorus with voice Separation and Melting
Echo: Pitch shifting dub delay unit
Fully Parametric 5-Band EQ
Saturation driver can be applied to overall signal
EQ and Melt are both routable
Mix controls for each effect as well as Master Mix
Sub Presets for each FX section
Randomization controls for each effect section
MIDI Learn and automation of most parameters
Double-Click Parameter Reset
Intuitive patch management system
128 presets to get you started
EchoMelt v2.0
VST/AU Effect
$49
+ VAT in EU
Looking for bundles? Visit the Shop.


(The demo version has the limitation of occasional sound dropouts and patch save functionality is disabled.)
EchoMelt Playlist
Watch the EchoMelt video introduction
5 versatile effects let you turn your sounds into something strange and wonderful.
Get Melted
The Melt effect produces a drifting, warbling instability that will give your sound instant character. Melt makes it easy to acheive that "VHS" sound, giving your audio the ghostly quality of forgotten formats and machineries of the past. It's meant to be used for subtle effect, but can be pushed to extremes for experimentation. If you're familiar with Phonec, you probably know all about it. EchoMelt's version however has several new features and big improvments.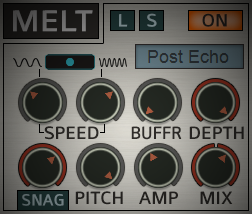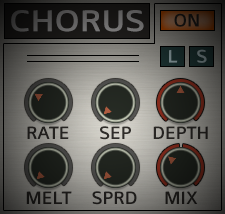 Swirling Lushness
The 2-voice Chorus with voice separation will bring your sounds to life with added depth and dimension. While the Chorus can make your tones mellow and lush, it can also create some interesting effects with the help of a little Melt modulation.
Delicious Dub Delays
A dual pitch-shifting dub delay unit, which is capable of much more than traditional delays, can create otherworldly effects when pushed to it's limits. The Echo can be used for subtle ambience, dubbed-out washes and, when at full feedback, an infinite and evolving sound source.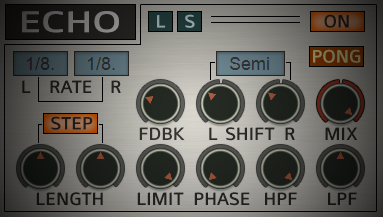 Set Your Frequencies
EchoMelt's 5-band fully parametric EQ can be a very useful tool for sculpting the perfect sound, whether it's vintage vibes, lofi tones or just boosting the bass. The EQ can also be used as a filter, assigning it's controls to MIDI for creating frequency sweeps. The EQ comes loaded with custom presets for instant recall within any patch at any time.
Warm It All Up
EchoMelt's Saturation can be used for adding subtle warmth to your sound or driven to the edge for some serious distortion.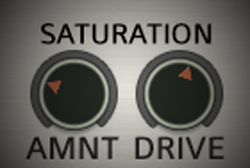 Intuitive Patch Management
EchoMelt has a versatile patch management system that makes it easy to save your own preset banks, copy/paste between presets and banks, and modify the default banks so your own sounds load up every time. EchoMelt even allows you to save presets for individual effect sections to quickly load up at any time.