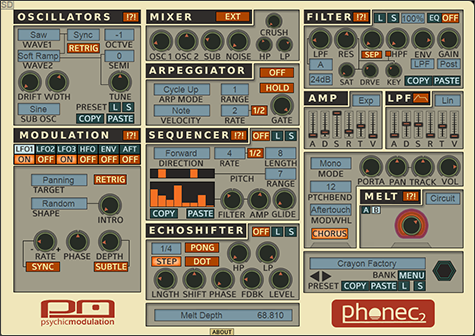 Phonec2 is the successor to the original Phonec synthesizer, which was inspired by the mystique of video logos you hear at the beginning of worn out VHS tapes. This time around it's available for both Mac and PC as a 32/64 bit VST and Audio Units plugin. Phonec2 has all the great features of the original plus many new features and several improvements.
Phonec2 is capable of producing a wide range of sounds such as vintage analogue tones, lo-fi synthscapes, ethereal pads, minimal techno sequences, retro synthwave leads and hard hitting synth basses. Phonec2 has an intuitive GUI that attempts to strike a balance between form and function, making it a very usable tool that can be a real inspiration to work with. Apart from it's unique character and excellent work flow, Phonec2 has several interesting features that set it apart from the crowd.
---
What's New?
Phonec2 has many exciting new features that make it better than ever. For starters, there's plenty of improvements in the overall signal flow. From the oscillators to the Echoshifter and everything that gets Melted in between, each section has been reworked to create the best Phonec experience yet.
Aftertouch is one feature that has been requested by some of the most dedicated Phonec users. This was originally going to be applied to only a couple of parameters like Melt and Filter, but I decided to go all out and make a new Mod panel devoted entirely to aftertouch, with control of nine different parameters, making Phonec more expressive than ever before.
Patch randomization has also been included, but not just to blatantly randomize every control at one time. Phonec2 has randomization switches for specific sections that were well planned out, giving you a little common sense chaos where it can be most useful.
Each control now has the ability to be assigned to a midi controller by simply right-clicking on it. You'll also notice that the controls are much smoother and seem to glide into position.
The Oscillator section has new waveforms, and the logic gates now have a control for fine-tuning the logic switching point. This can produce some really gritty and interesting sounds.
Phonec's Filter gets some huge improvments, including filter separation, pre/post distortion and Envelope routing. Included on the Filter's panel is a 3-band fully parametric EQ. All of the EQ controls can be assigned to MIDI, allowing for sweeping frequencies across the spectrum.
The sequencer has been greatly improved, with a modulation grid for the Filter/Amp and Copy/Paste controls for storing your patterns and pasting them into other patches. There have also been improvements in the way the sequencer responds to note triggering, with super solid timing.
If you thought the Echoshifter was an interesting effect before, get ready for this new incarnation. High and Low pass filters have been added into the feedback path for creating sweeping delays and tape delay dub sounds. But to make this even more unique is the Shifter being added into the feedback path as well. Crank the feedback up and adjust the shifter and you can get endless insanity. And for even more fun, tweak the Phase control for crazy phase shifting sounds. Best of all, Phonec likes to share. You can run your favorite synths or any other external input straight into the Echoshifter. And of course, external signals can still pass through the Melt effect as well.
Phonec now has an on-board Chorus effect that can be tuned, tweaked and even melted using it's hidden parameters.
There are several new modulation routings as well. The Filter's cutoff can be modulated by the HFO, allowing for Filter FM effects, the new Logic control can be modulated by the LFOs and Envelopes, and the level of each oscillator can now be routed to the Modulation Envelopes.
And finally, perhaps one of the more convenient of all the new features is the updated patch management system, where you can load/save banks and copy/paste patches right from the interface.
---
Features
Dual Oscillators that can be combined in unique ways
Various oscillator combinations: Mix, Sync, Ring, X-wave, logic
Sub Oscillator for beefing up the low end
Analog-style oscillator drifting
2-stage lowpass filter plus 1-pole highpass
Filter separation
3-Band Parametric EQ
Melt: A unique feature that adds instant character to any patch
Arpeggiator
Modulation Sequencer
3 LFOs (2 monophonic, 1 polyphonic)
HFO (High Frequency Oscillator)
Various modulation types: AM, PM, FM, Filter FM
2 Modulation Envelopes
Aftertouch control of several parameters
Echoshifter: Pitchshifting Dub Delay Unit
Chorus effect with Melt integration
External Audio Processing
Pan-Tracking
MIDI Learn and automation of most parameters
Patch Randomization
Double Click Parameter Reset
Intuitive patch managment system
Default bank of 128 patches
Phonec v2.2
VST/AU Synthesizer
$59
+ VAT in EU
Looking for bundles? Visit the Shop.


(The demo version has the limitation of occasional sound dropouts and patch save functionality is disabled.)
Soundpacks for Phonec
NEW!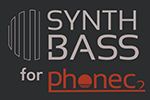 Synth Bass is a collection of 128 newly designed bass patches for Phonec
---
User Patchbanks
Third party patchbanks for Phonec2.
Phosphor Vol 1 by The Unfinished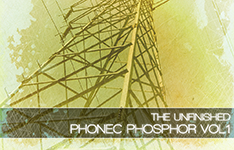 Phosphor Vol 2 by The Unfinished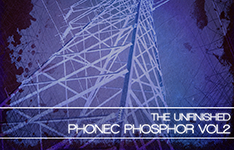 Tempus Aquis by Blort Blort